CBFC Presents,
Prem Ratan Dhan Payo... Aur Free Mein Little Modi Bhakti!
I watched Prem Ratan Dhan Payo last night (Yes, I did). The movie was pretty lame. Except for a double-role Sallu Bhai (one serious, one fun), there was nothing special in this overly melodramatic movie. Bad execution, bad editing, horrendous villainy, fairly good songs (all 90's style), some good comedy, well, the only thing that was holding together this film was the power of Sallu Bhai. The power of an escapist Bollywood melodrama. It was bad, but I enjoyed it. That's a cross I would like to take upon myself.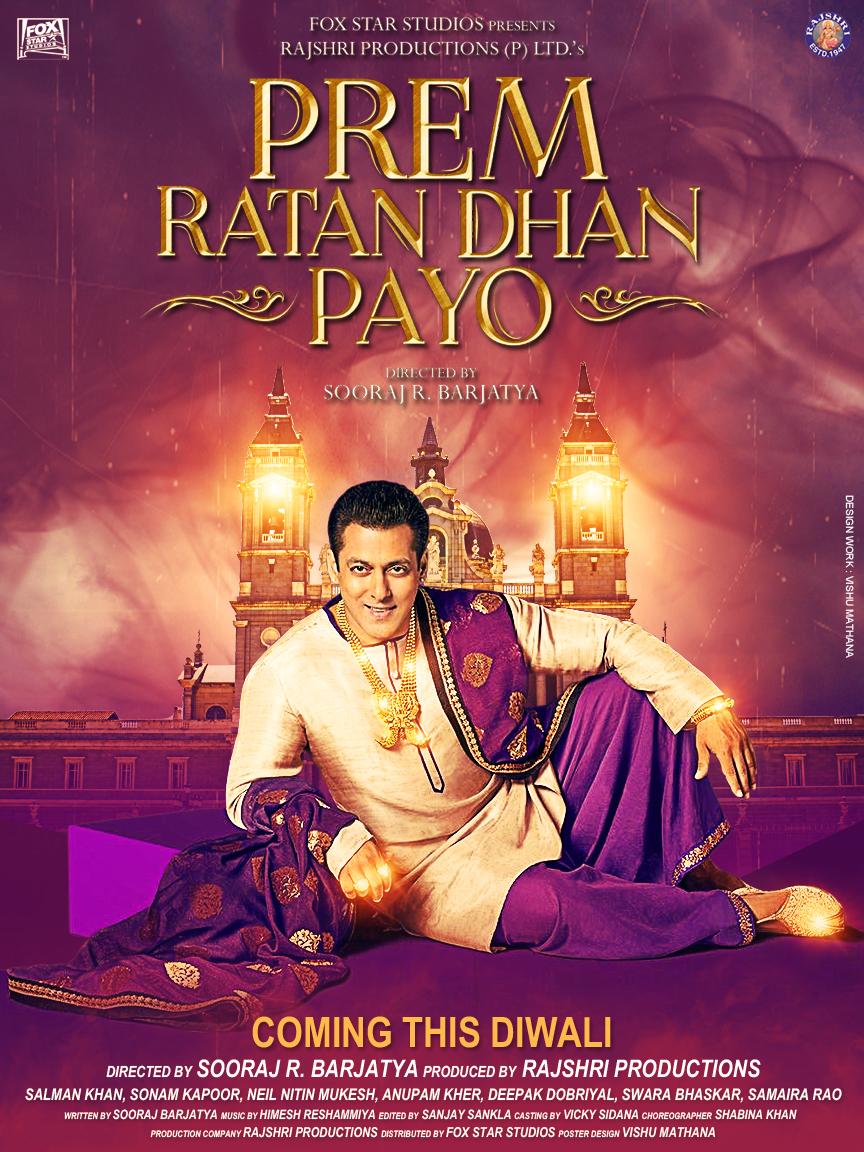 What I want to talk about here is not the film, but the big attachment that came with the film. When the interval ads were over, before the mandatory 'no-smoking' ad was shown, there was a five minute propaganda video song on 'Narendra Modi and Desh Bhakthi'. I had heard about the chances of such a thing being there from a scroll.in article which I read yesterday (here). I thought this was just in the multiplexes, but no, it was in the dingy theater I watched it too, It was in every screen playing Prem Ratan Dhan Payo. Apparently the video is attached to the movie, with the no smoking ad, says an Indian Express article which I read today (here).
This video was produced and presented by none other than Pahlaj Nihalani, the Chairperson of Central Board of Film Certification, an ardent Modi Bhakt and campaigner. He 'requested' the production house of the movie 'Rajashri Productions' to air the song with the film, as a tribute to Narendra Modi, and showcase all his good work of building a 'tolerant, wonderous' nation by meeting all sorts of world leaders and smiling around for photos. There is a shot in the beginning where Modi is shown in deep meditation-mode in the graphic Himalayas, wearing a Karate costume, an absolute no-miss moment (it's hilarious!). Most part of the video is people synced with lame background graphics. The film shows how all religions of India (a dose of tikawala Hindu, a dose topiwala Muslim,an equal dose of crosswala Christian) is growing strong and co-existing peacefully (full hugs and all) under the mighty leadership of Modi, who is equal to Gandhi, dreaming of a swachh nation. The three dudes representing the three religions had so much desh bhakt in their body I thought all their muscle flexing, passionate expressions on face and vigour, would oust Salman Khan from the movie industry altogether.
When the song became too unbearable, I booed. Nobody joined me though. There were some comments on Modi from here and there but I think nobody else booed this abomination because of all the graphical mix of saffron, white, and green which were dancing all across the screen, because of the pride sentiment we are infused with from childhood towards the tricolours.
There have been Government ads playing in theaters all the time, some good, some informative, some bad, but all of them were around 30 seconds and did no particular harm I suppose, till now. This five minute show of forced patriotism and Modism was nothing like that. When you are paying for a movie and watching it, you are thrust upon with and subjected to Goebbelsian style propaganda show, sponsored by the Chairman of the Censor Board. What scares me is that I think this is just the beginning. They have the power, they could make it worse. What if we aren't allowed to watch a movie without being subjected to half an hour of propaganda video? What if this made mandatory to all movies to pass the censor? What if this is part of the DVD as well? Winter is coming, I guess.
Let's come back to the movie now. With all its faults, Prem Ratan Dhan Payo has one scene which really interested me. Ramleela artists Prem (Salman Khan) and Kanhaiya (Deepak Dobriyal) are asked to stop all their acts in the palace and leave by the Diwan (Anupam Kher). Kanhaiya, in disappointment and anger, says something like this, "Jahaan pe insaniyat ka jagah nahi hein, wahaan pe artists ka kya jagah hoga? Chalo Bhai!" (Where there is no place for humanity, would there be a place for artists? Let's go Bhai!). I don't think this scene was a coincidence. I think it was put in place for a reason. With all the torture caused by the propaganda video, which haunted me all through the second half and does even now, which I cannot un-see, which I would be subjected to again I'm sure, this scene, this one scene proved to me that there's still space for a glimmer of hope.